Ukraine: Daily Briefing
October 12, 2017, 6 PM Kyiv time
Ukrainian tank crew participates in training exercise. Photo – US Army Europe
1. Russian Invasion of Ukraine
The General Staff of Ukraine's Armed Forces reported at
12:30 PM
Kyiv time that in the last 24 hours, no Ukrainian soldiers were killed and one Ukrainian soldier was wounded in action. In the last 24 hours, ceasefire violations by Russian-terrorist forces significantly escalated. Russian-terrorist forces fired on Ukrainian positions on the Donetsk, Luhansk and Mariupol sectors of the front 41 times in total, including at least 5 times with heavy weapons.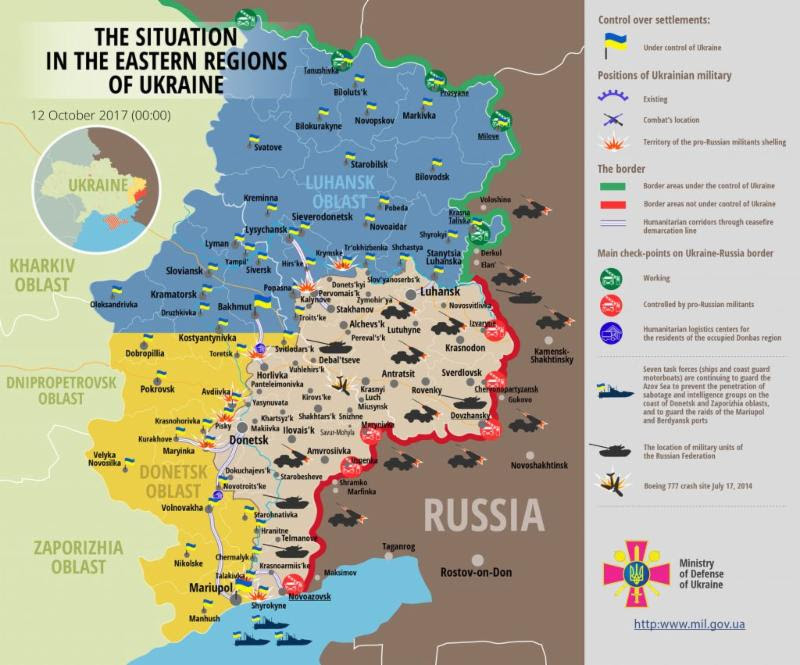 2. Ukraine protests against latest wave of repressions in Russian-occupied Crimea
Ukraine's Ministry of Foreign Affairs stated on October 11, "The Ministry of Foreign Affairs of Ukraine expresses its resolute protest to yet another wave of groundless searches and illegal detentions of the citizens of Ukraine by the Russian occupation authorities in the city of Bakhchysaray (the Autonomous Republic of Crimea, Ukraine).
             As a result, 6 people were illegally detained, in addition to that at least 9 activists were arrested only for coming to support their compatriots and standing nearby the houses where searches were conducted.
            The onslaught of the occupants against those opposing the occupation regime, in particular Crimean Tatar activists and Ukrainians, once again testifies the continuation of Russia's repressive policy with the aim to eradicate any dissent voices and intimidate the population of the Crimean peninsula.
            Moreover, targeted searches in the homes of Muslims are a clear manifestation of persecutions on religious grounds.
            Repressions, illegal detentions, enforced disappearances, abductions, tortures and other violations of fundamental human rights and freedoms have become a regular practice of the Russian occupation authorities in the Autonomous Republic of Crimea and the city of Sevastopol. Russia keeps blatantly and cynically violating its international legal obligations […]
          We call on the international community to actively stand for the rights and freedoms of the population of the Crimean peninsula and to force Russia to stop malicious persecutions against those opposing the occupation."
3. Reuters: Despite sanctions, Russian organizations acquire Microsoft software
In an exclusive report, Reuters stated, "Software produced by Microsoft Corp has been acquired by state organizations and firms in Russia and Crimea despite sanctions barring U.S-based companies from doing business with them, official documents show.
           The acquisitions, registered on the Russian state procurement database, show the limitations in the way foreign governments and firms enforce the U.S. sanctions, imposed on Russia over its annexation of the Crimea peninsula from Ukraine in 2014.
           Some of the users gave Microsoft fictitious data about their identity, people involved in the transactions told Reuters, exploiting a gap in the U.S. company's ability to keep its products out of their hands. The products in each case were sold via third parties and Reuters has no evidence that Microsoft sold products directly to entities hit by the sanctions. […]
           The Reuters review of the database found state entities in Russia and Crimea that are subject to sanctions have acquired more than 5,000 Microsoft products worth about 60 million rubles ($1.03 million). […]The database also does not include private companies, so the scale of the problem could be much bigger.
           Among entities hit by sanctions that acquired Microsoft products was Almaz-Antey, manufacturer of the BUK surface-to-air missile. Dutch prosecutors say a BUK missile brought down a Malaysian Airlines passenger jet over east Ukraine in July 2014 […]
           One set of U.S. sanctions prohibits the export by a U.S. entity of any goods, services or technology to Crimea.Other sanctions bar U.S firms from carrying out transactions with companies or individuals on a list of 'specially designated nationals' deemed by Washington to be linked to the Russian government and its activities in Ukraine. […] But people involved in transactions say ways can be found to circumvent obstacles." The full report from Reuters is available here –
Exclusive: Despite sanctions, Russian organizations acquire Microsoft software 
4. US Senators McCain, Cardin question Administration's delay in Russia sanctions implementation
On October 11, US Senators John McCain (R-AZ), Chairman of the Senate Armed Services Committee and Ben Cardin, (D-MD), released a statement ten days after the October 1 deadline by which the Trump Administration was to announce the implementation of sanctions on Russia's defense and intelligence sectors, as stipulated in the Countering America's Adversaries Through Sanctions Act. Senators McCain and Cardin stated,
           "The delay calls into question the Trump administration's commitment to the sanctions bill which was signed into law more than two months ago, following months of public debate and negotiations in Congress. They've had plenty of time to get their act together.
           In addition to the administration's lack of responsiveness on this deadline, there does not appear to be a significant diplomatic effort to engage our allies in Europe and lead an effort to increase pressure on Moscow.  Congressional intent was clear, reflected in the overwhelming bipartisan majority in favor of the legislation.
           We wrote the Administration on September 28, strongly urging them to develop a robust and comprehensive implementation plan for all aspects of the law and to work in close consultation with Congress to ensure a fulsome reflection of congressional intent. We again request that the administration respond to our letter, and engage Congress in a serious way moving forward."
           The letter McCain and Cardin sent to President Trump on September 28 is available
here