Ukraine: Daily Briefing
November 9, 2017, 6 PM

 Kyiv time
Note to our readers: The UCC Ukraine Daily Briefing will not be published on 

November 10

. The Ukraine Briefing will return 

Monday, November 13

. Thank you for your interest!
Ukrainian army training exercises. Photo – Ukraine's Ministry of Defense
1. Russian Invasion of Ukraine
The General Staff of Ukraine's Armed Forces reported at 
12:30 PM
 Kyiv time that in the last 24 hours, one Ukrainian soldier was killed and three Ukrainian soldiers were wounded in action. In the last 24 hours, Russian-terrorist forces opened fire on Ukrainian positions 19 times in total on the Donetsk, Luhansk and Mariupol sectors of the front, including at least 6 times with heavy weapons.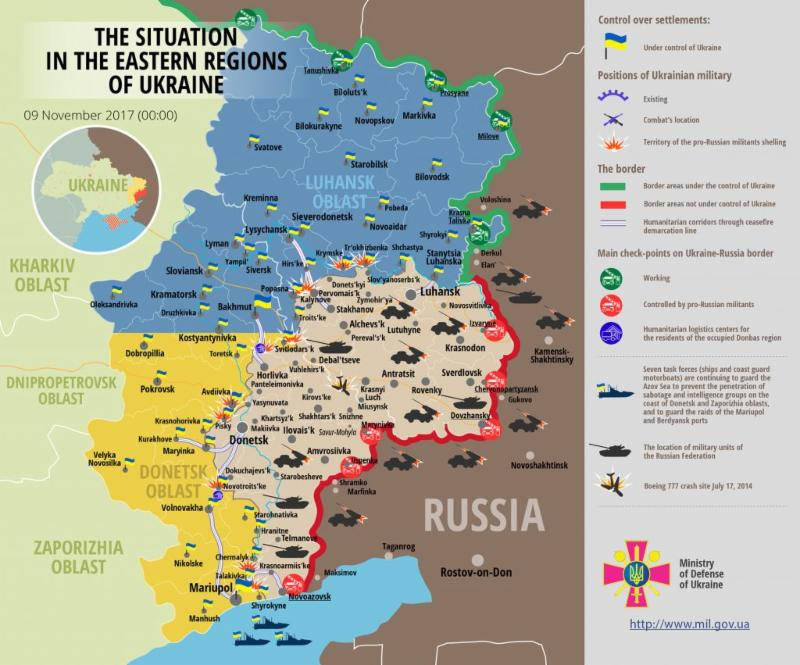 2. Ukraine's Parliament passes legislation on privatization of state companies in first reading
Reuters reported, "Ukrainian lawmakers passed legislation 
on Thursday
 laying down rules for the privatization of more than 3,000 mostly loss-making state companies, meeting a condition of Kyiv's $17.5 billion bailout program with the International Monetary Fund.
           The law aims to make the privatization process more transparent and faster for investors. It makes it obligatory, for example, to invite international advisers through a tender process to help prepare sales of larger firms.
Thursday's
 vote brings Ukraine a step closer to receiving the next tranche of bailout money from the IMF, though negotiations have snagged on other issues, especially the government's reluctance to raise gas prices.
           It was passed at a first reading and must be voted on again, during which time MPs can amend the law. […] It is not clear when a second vote might take place. […]The law will allow the state to sell assets at cheaper prices than the starting price of the auction.
          If the first sale fails, the price can be cut by 25 percent, then by 50 percent if a second attempt fails, and finally, if the sale falls through a third time, the State Property Fund can hold consultations with potential investors about the price.
         The new law also allows firms to be bought and sold under foreign jurisdictions.
Privatization could bolster state coffers and bring in new foreign investors. Last year, the government's first attempt at big ticket privatization fell through when the sale of a fertilizer plant in Odessa failed to attract any bids.
           'It's not a secret to anybody that 3,500 state businesses is a complete nonsense for the country. They generate losses for the state and profit for those who have been feeding around these businesses for decades,' Prime Minister Volodymyr Groysman told lawmakers ahead of the vote. 'It's important for our economic growth and is one of the biggest steps towards anti-corruption policy in the state.'"
3. Facing Russian threat, NATO boosts operations for the first time since the Cold War
NATO Defence Ministers meeting, November 8-9. Photo – NATO
The Washington Post reported, "As the specter of conflict with Russia looms over Europe, NATO defense ministers decided 
Wednesday
 to expand the alliance's operations for the first time since the Cold War, sharpen its focus on cyber operations, and boost its capability to respond to Kremlin aggression.
           The moves came as tensions with Russia remain the highest they have been in the nearly three decades since the end of the Cold War. […]
           Defense ministers approved plans that would bolster their ability to keep an eye on Russian submarines in the Atlantic Ocean, where crucial undersea communications are at risk of being cut. They committed to establishing a command dedicated to sweeping away barriers preventing their forces from being deployed quickly across Europe in the event of war. And they said that cyberweapons would now have as big a role in NATO planning as guns and tanks.
           The efforts seek to revamp a war-fighting structure that atrophied in the peacetime years after the Cold War. NATO was once a sprawling organization of 22,000 people and 33 commands. Following cuts in this decade, it shrank to 7,000 people and seven commands. […]
           The decision, which was widely supported by NATO's 29 member nations, would establish two new regional bases, bolstering NATO's total number to nine. No decisions were made about personnel numbers or where to station the new commands, although Germany and Poland are favorites for the logistics command and Portugal, the United States and France are possibilities for the sea-focused one.
           The NATO nations that are most vulnerable to Russian attack said that the initiative would help improve their defenses. NATO nations deployed about 4,000 troops this year across the three Baltic nations of Estonia, Latvia and Lithuania, as well as Poland, which all share borders with Russia.
           Any delay in speeding troops and materiel across Europe 'means more casualties, additional risks and losses' in the event of war, Lithuanian Defense Minister Raimondas Karoblis said.
         'Time is very important here,' he said, adding that the speed with which NATO can respond to any Russian aggression could make the difference between fighting to defend NATO borders and a much more grinding effort to retake territory that has already been lost."
4. White House Statement on National Day for the Victims of Communism, November 7
On November 7, the US White House stated, "Today, the National Day for the Victims of Communism, marks 100 years since the Bolshevik Revolution took place in Russia. The Bolshevik Revolution gave rise to the Soviet Union and its dark decades of oppressive communism, a political philosophy incompatible with liberty, prosperity, and the dignity of human life.
           Over the past century, communist totalitarian regimes around the world have killed more than 100 million people and subjected countless more to exploitation, violence, and untold devastation. These movements, under the false pretense of liberation, systematically robbed innocent people of their God-given rights of free worship, freedom of association, and countless other rights we hold sacrosanct. Citizens yearning for freedom were subjugated by the state through the use of coercion, violence, and fear.
           Today, we remember those who have died and all who continue to suffer under communism. In their memory and in honor of the indomitable spirit of those who have fought courageously to spread freedom and opportunity around the world, our Nation reaffirms its steadfast resolve to shine the light of liberty for all who yearn for a brighter, freer future."
5. US Congress launches bipartisan Victims of Communism Caucus
On November 8, US Representatives Marcy Kaptur (D-OH); Dennis Ross, (R-FL); Chris Smith (R-NJ); and Dan Lipinski (D-IL) announced the formation of the Victims of Communism Caucus for the 115th Congress (2017-19). The Caucus stated, "The Victims of Communism Caucus is a bipartisan group of Members of Congress dedicated to raising awareness of how communism victimized and enslaved many millions of people in the past and how its tyranny in the five existing Communist countries (China, Cuba, Laos, North Korea, and Vietnam) and its legacy in the post-Soviet sphere shapes international relations today.
            During the upcoming session, the Victims of Communism Caucus will focus on several issues, including Russian expansionism in Ukraine; the deteriorating political and economic situation in Venezuela, and what the U.S. can do to ameliorate it; the continuing human rights abuses of the Castro regime in Cuba; and the increasing threat that North Korea poses to a free world with its dangerous rhetoric and pursuit of ever more advanced missile and nuclear technology even as they enslave their own people. The Caucus will honor the memory of the 100 million victims of communism and raise awareness about the dissidents who continue to protest against current communist regimes."