Ukraine: Daily Briefing
November 15, 2017, 6 PM Kyiv time
Counter-sniper training, Yavoriv, Ukraine. Photo – US Army Europe
1. Russian Invasion of Ukraine
The General Staff of Ukraine's Armed Forces reported at 
12:30 PM
 Kyiv time that in the last 24 hours, no Ukrainian soldiers were killed and two Ukrainian soldiers were wounded in action. In the last 24 hours, Russian-terrorist forces opened fire on Ukrainian positions 23 times in total on the Donetsk, Luhansk and Mariupol sectors of the front, including at least 10 times with heavy weapons – Grad rockets, artillery, mortars and tanks. Russian-terrorist forces shelled residential areas near Zaytseve with Grad rockets.
2. US Assistant Secretary of State visits Ukraine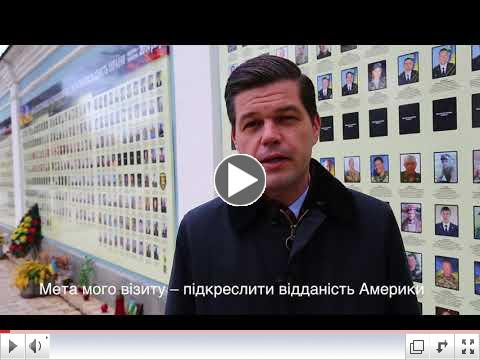 Assistant Secretary Mitchell at the Monument to Fallen Soldiers in Kyiv. 
To view video, please click on image above
US Assistant Secretary of State A. Wess Mitchell is on a visit to Ukraine. Today he met with Ukraine's President Petro Poroshenko. The Presidential Administration reported, "The parties thoroughly discussed a complex of issues of Ukraine-USA bilateral relations and coordinated priorities within their enhancement in the best interests of the two parties and joint protection and promotion of freedom and democracy, the rule of law and human rights.
           The importance of new approaches and bold initiatives for the replenishment of strategic partnership between Ukraine and USA was noted – from the enhanced political, trade-economic and energy interaction to the intensification of defense and security partnership between the parties. […]
           Aaron Wess Mitchell assured that USA would further support Ukraine in its endeavors to develop and strengthen the country, as well as in the further coordination of efforts aimed to ensure a reliable and efficient international support for our state. […]
           The Assistant Secretary of State for European and Eurasian Affairs confirmed willingness to keep on supporting Ukraine's efforts on the restoration of sovereignty and territorial integrity of the country and, if necessary, to increase the price of the continuation of aggression against the Ukrainian state for Moscow."
3. Ukraine's Parliament approves 2018 budget in first reading
On November 14, Ukraine's Parliament approved the 2018 budget at first reading. Reuters reported, "The budget will likely undergo a series of amendments before it is voted on a second time in Parliament. The Government prepared the budget on the expectation of a deficit of 2.4 percent and economic growth of 3 percent."
4. World Bank President visits Ukraine
The World Bank reported on November 14, "On a two-day visit to Ukraine, World Bank Group President Jim Yong Kim reiterated the institution's support for the country's ambitious reform agenda aimed at accelerating growth and improving people's lives.
           Kim met with President Petro Poroshenko, Prime Minister Volodymyr Groysman and members of his cabinet. During his visit, Kim also met with leaders in parliament, Kyiv Mayor Vitali Klitschko, as well as key anti-corruption officials and representatives from civil society and the private sector.
           'We applaud the remarkable reforms Ukraine has implemented, which have helped the economy return to growth,' Kim said. 'The people of Ukraine have been through some very difficult times, and the challenge now is to ensure that the country's progress continues and is shared by all Ukrainians.'
           Kim discussed the importance of unlocking Ukraine's agriculture potential through land reforms that would benefit all landholders. Lifting restrictions on land sales and providing greater access to credit can help farmers grow their businesses, attract private investment, expand food exports, and play an important role in global food security. […]
           Kim was encouraged by the progress of healthcare reform and offered the World Bank's continued support for its implementation. […]
           Kim commended the Ukrainian authorities and civil society organizations for taking steps to fight corruption, including the publication of asset declarations, and the investigation of cases by the National Anticorruption Bureau of Ukraine (NABU) and the Specialized Anticorruption Prosecutor's Office. Kim called for the urgent establishment of an independent Anticorruption Court to bring corrupt officials to justice. […]
           Kim acknowledged that completing reforms will be challenging, but necessary to reach Ukraine's potential. The World Bank Group is committed to continuing its support, so the aspirations of all Ukrainians can be realized."