UKRAINIAN CANADIAN COMMUNITY CAROLS FOR EUROPEAN UNION  
AMBASSADOR TO CANADA AND CANADA'S FOREIGN MINISTER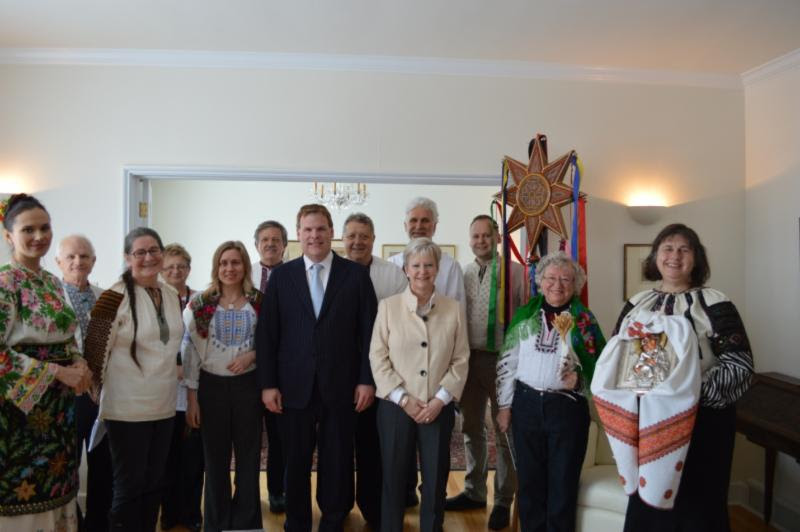 Group of Ottawa Carolers with Her Excellency Marie Anne Coninsx, the Honourable John Baird.
January 15, 2014 – OTTAWA, ON – Celebrating the Ukrainian Christmas season (Julian calendar January 7th to 19th), a group of carolers from Ottawa's Ukrainian community performed a number of Ukrainian Christmas carols for Her Excellency Marie Anne Coninsx, European Union (EU) Ambassador to Canada, the Honourable John Baird, Canada's Minister of Foreign Affairs (who mentioned his recent December visit to Kyiv) and 24Ambassadors from all EU member countries.
Hosted at the residence of the European Union's Ambassador to Canada, this was a festive way to not only celebrate the Ukrainian Christmas spirit, but carolers also were able to show support for a closer ties between the European Union and Ukraine. 
On a sunny afternoon, the carolers arrived at the Official Residence of Ambassador Marie-Anne Coninsx, the Ambassador of the European Union to Canada and greeted Ambassador Coninsx with traditional greetings of "Khrystos Narodyvsya" — "Christ is Born", and sang "Dobriy Vechir Tobi". The carolers then performed Boh Predvichnyi which was followed by a traditional Ukrainian Christmas greeting, a "vinchuvannya" recited in both Ukrainian and English by Mr. Oleh Belkin.
The Ambassador generously welcomed  the carolers and offered them refreshments. The carolers concluded with "Shchedryk" the original version of the western popularized "Carol of the Bells" written by Mykola Leontovych in the 1920's
At the conclusion of the short concert, carollers had time to meet with the Ambassadors present to discuss carolling and other Ukrainian Christmas traditions, the developments in Ukraine and to express their support for greater Ukraine/EU relations.
The carolling was organized by the National office of the Ukrainian Canadian Congress and Mr. Michael Reshitnyk.  Copies of the AKORD choir's Ukrainian Christmas CD "3 Feasts of Christmas" were provided to the ambassadors.
The UCC would like extend a special thank you to the choir consisting of members of AKORD Ukrainian Men's Choir and the choir of the Assumption of the Blessed Virgin Ukrainian Orthodox Cathedral.
Choir members included: Michael Reshitnyk, Oleh Belkin, Vera Hutzuliak, Tatiana Martchenko, Oksana Ganina, Marko Yanyshevsky, Andriy Sawchuk, Danny Lega, Nadia Zelem, Olesia Shevchenko and Jenny Dutchak, under the direction of Iryna Smishny.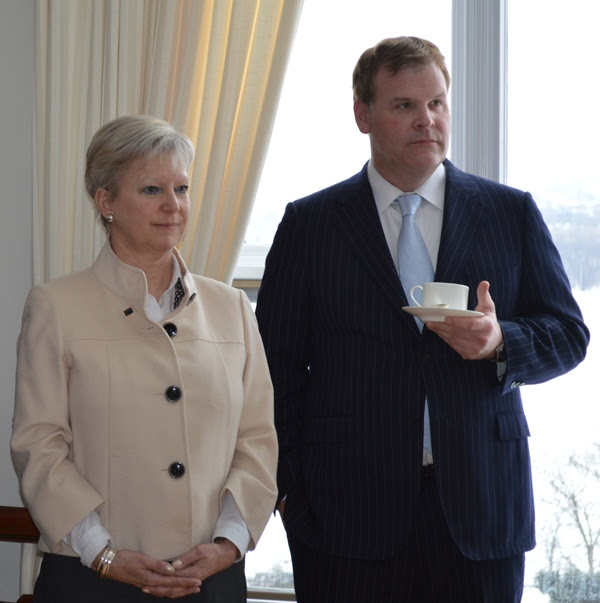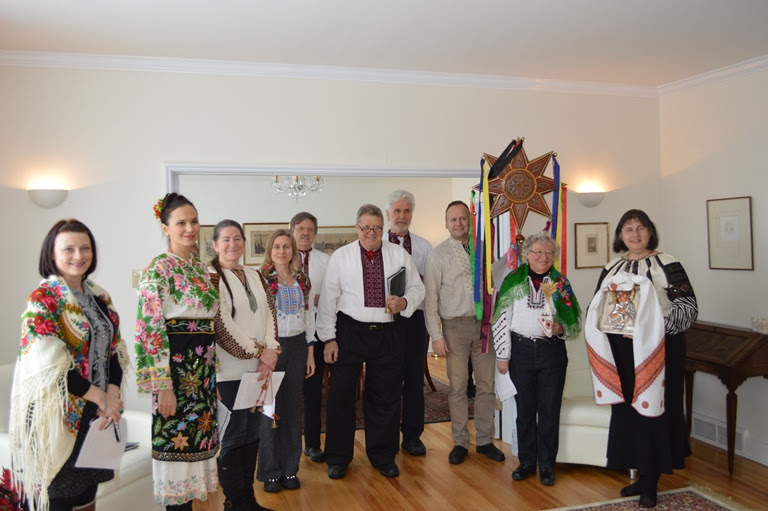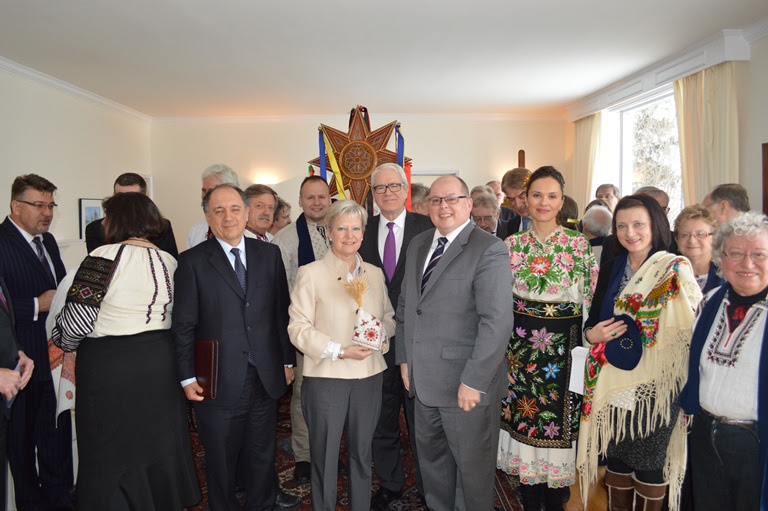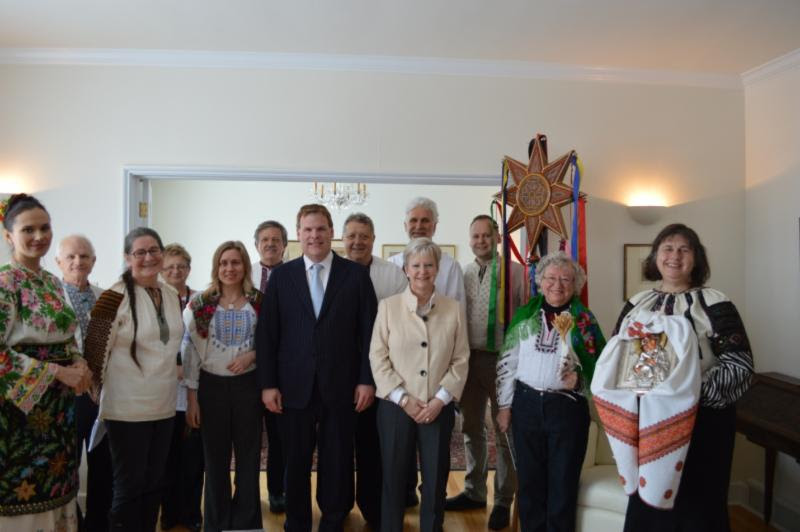 УКРАЇНСЬКО-КАНАДСЬКА ГРОМАДА ПРИЙШЛА З КОЛЯДОЮ ДО ПОСЛА ЄВРОПЕЙСЬКОЇ СПІЛЬНОТИ  У КАНАДІ 
10 Січня, 2014 – ОТТАВА, ОНТАРІО– В час святкування Українського Різдва (з 7 до 19 січняза Юліанським календарем)в посольство Европейського Союзу в Канаді завіталагрупа колядників від української громади Оттави, які виконали кілька українських колядок для Її Високоповажності Марі-Aнн Конинск, посла Європейського союзу (ЄС) в Канаді, високоповажного Джона Берда, міністра закордонних справ Канади (котрийзгадував про свою недавню поїздку до Києва у грудні) і 24-ьох послів з усіх країн-членів ЄС.
Колядникам, яких прийнялив резиденції посла Європейського Союзу в Канаді, вдалося не лише відтворити святковий настрій Українського Різдва, але й продемонструвати свою підтримку зближенню Європейського Союзу і України.
Сонячного полудня колядники прибули до офіційної резиденції Посла Марі-Анн Конинск, посла Європейського Союзу в Канаді, і привітали Пані Конинск  традиційним вітанням «Христос Народився» – «Christ is Born», та заспівали «Добрий Вечір Тобі». Потім виконали «Бог Предвічний»,  після чого прозвучало традиційне українське різдвяне вітання-"віншування", яке українською та англійською мовами задекламував пан Олег Бєлкін.
Пані Посол щедро вітала колядників і запропонувала
їм прохолодні напої. На завершення вони виконали "Щедрик", оригінал популярної  західної версії  "Carol of theBells", написаної Миколою Леонтовичем в 1920-х роках.
Після короткого концерту колядники мали можливість зустрітись з присутніми послами, де обговорювали традицію колядування та інші українські різдвяні традиції, а також розвиток подій в Україні та висловили свою підтримку розширенню відносин Україна / ЄС.
Коляду організував Національний офіс Конґресу Українців Канади і пан Михайло Решітник.  Послам подарували компакт-диски  «Три Празники в гості» ("3 Feasts of Christmas" ) із записами українських Різдвяних колядок у виконанні хору АКОРД .
Конґрес Українців Канади висловлює окрему подяку хору, до якого входять члени українського чоловічого хору АКОРД та хору Українського Православного собору Успіння Пресвятої Богородиці.
У складі хору: Михайло Решітник, Олег Бєлкін, Віра Гуцуляк, Тетяна Марченко, Оксана Ганина, Марко Янишевський, Андрій Савчук, Дeнi Леґа, Надя Зелем, Олеся Шевченко та Ґeння Дутчак, керівник Ірина Смішна.