UKRAINIAN CANADIAN COMMUNITY COMMEMORATES REMEMBRANCE DAY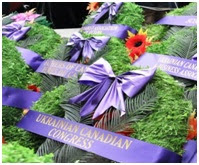 Ottawa – November 11, 2014– On November 11, Canadians pause to remember the sacrifices of the men and women who fought and died protecting our rights and our freedom. Today, we gather to express our eternal gratitude to all those who have served and continue to serve in Canada's military and honour those who have laid down their lives to ensure that we may live in freedom.
It is because they dedicated themselves to serve our country that we enjoy the freedoms that we do. They paid the ultimate price on the battlefields of Vimy Ridge, Normandy, Afghanistan and countless other places around the world defending and safeguarding our way of life and Canada's fundamental values.
"Today, we remember and honour all Canadians who dedicated their lives to military service in defence of our country, including the thousands of Ukrainian Canadians who served in Canada's armed forces," stated Paul Grod, National President of the Ukrainian Canadian Congress. "We are grateful for their service to our country, and we thank them for our freedom."
As Ukrainian Canadians, we also pause on Remembrance Day to pay tribute to our brothers and sisters in Ukraine who today are defending their country against military aggression by the Russian Federation. Every day, Ukrainian soldiers are fighting and dying to protect their homes, their families, their freedom. Their brave struggle is a solemn reminder to us all that, too often, liberty must be defended.
Lest We Forget
УКРАЇНСЬКО-КАНАДСЬКА ГРОМАДА ВШАНОВУЄ ДЕНЬ ПАМ'ЯТІ
Оттава – 11-го листопада, 2014 р. – У цей день,11-го листопада, канадці вшановують пам'ять чоловіків і жінок, що воювали і загибли, захищаючи наші права і нашу свободу. Сьогодні ми збираємся разом, щоб висловити нашу вічну вдячність всім тим, хто служив і продовжує служити в збройних силах Канади та вшанувати пам'ять тих, хто поклав своє життя для того, щоб ми могли жити в умовах свободи.
Через те, що вони присвятили себе службі нашій країні, ми можемо користуватися тими свободами, що маємо зараз. Вони заплатили найвищу ціну на полях битв Вімі Рідж, Нормандії, Афганістану й незліченних інших місцях по всьому світу, забезпечуючи збереження та захист нашого способу життя і основоположних цінностей Канади.
«Сьогодні ми згадуємо і вшановуємо всіх канадців, які присвятили своє життя військовій службі на захист нашої країни, в тому числі, тисячі українських канадців, які служили в збройних силах Канади», – заявив Павло Ґрод, Президент Конґресу Українців Канади. «Ми вдячні за їхню службу нашій країні, і ми дякуємо їм за нашу свободу.»
Як українські канадці, в День Пам'яті, ми також згадуємо наших братів і сестер в Україні, які сьогодні захищають свою країну від військової агресії з боку Російської Федерації. Кожен день, українські солдати б'ються і гинуть, щоб захистити свої доми, свої сім'ї, свою свободу. Їх смілива боротьба – поважне нагадування нам усім, що, зачасто, свободу треба захищати.
Вічная Пам'ять
.