Ukraine: Daily Briefing
May 24, 2017, 6 PM Kyiv time
Armored personnel carrier night fire training, Yavoriv Combat Training Centre. 
PHOTO – US 7th Army
1. Russian Invasion of Ukraine
The General Staff of Ukraine's Armed Forces reported at
12:30 PM
Kyiv time that in the last 24 hours, no Ukrainian soldiers were killed and one Ukrainian soldier was wounded in action. Towards Donetsk, Russian-terrorist forces shelled residential areas of Avdiivka with Grad rockets. One civilian was injured as a result of the shelling by Russian-terrorist forces. Russian-terrorist forces shelled Ukrianian positions at Zaytseve and Pisky with mortars. Towards Mariupol, Russian-terrorist forces shelled Ukrainian positions at Maryinka with mortars. Russian-terrorist forces fired on Ukrainian positions at several locations on the Mariupol sector of the front. Towards Luhansk, Russian-terrorist forces fired on Ukrainian positions at Popasne, Stanytsia Luhanska and several other locations.
2. Parliament adopts law on ensuring Ukrainian language content on TV, radio
Radio Free Europe/Radio Liberty reported, "Lawmakers have approved a bill that would require Ukrainian television and radio stations that broadcast nationwide to have at least 75 percent of their programming in the Ukrainian language. The bill was supported by 269 lawmakers in its second and final vote in the 450-seat Verkhovna Rada on May 23. The legislation, which would amend laws on broadcasting, culture, and languages, will become law if signed by President Petro Poroshenko. […] The legislation would also require local and regional TV and radio stations to have 50 percent of their content in Ukrainian. It would not affect foreign-based broadcasters, but would require foreign films aired on Ukrainian television channels to carry Ukrainian subtitles. The language quotas would be in place between
7 a.m. and 10 p.m.
"
3. NATO Secretary General on Ukraine's recent decision to sanction Russian social media networks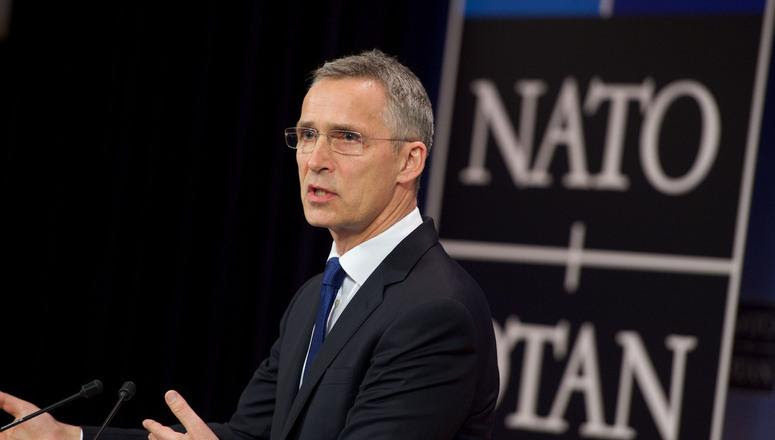 NATO Secretary General Stoltenberg. PHOTO – NATO
NATO Secretary General Jens Stoltenberg held a press conference ahead of the NATO Meeting of Heads of State or Government, which takes place in Brussels on May 25. Asked about last week's decision by the Ukrainian government to impose sanctions on Russian social media networks VKontakte and Odnoklassniki as well as Russian search engine Yandex and the Mail.ru Group, Stoltenberg stated, "We see how vulnerable many societies are against cyber attacks. And therefore NATO has significantly increased our own cyber defenses. We are also working with partner countries, including Ukraine, on how we can help them strengthen their cyber defense. The Ukrainian government has made clear that this decree to close some of the sites is an issue of security, not one of freedom of speech. And freedom of speech is part of the dialogue we have with Ukraine. It's extremely important for NATO, but it has been clearly stated by the Ukrainian government that this is not about limiting the freedom of speech but it's something they've done for security reasons."
4. Ukraine Tech Companies to visit Toronto

May 29-31
Branham Group stated, "Branham Group, together with the Canada-Ukraine Trade and Investment Support (CUTIS) Project, is bringing more than 15 Ukrainian ICT companies to Toronto and setting up introductory one-on-one meetings with Canadian companies interested in doing business with them. […] The event will provide a unique chance for Canadian companies interesting in off-shoring and finding partnering opportunities to have one-on-one B2B meetings and speak with many ICT executives from Ukraine who are here because they are interested and ready to work more closely with Canada, said Gail Balfour, Senior Research Analyst at Branham Group. […]The Ukraine B2B meetings with Canadian companies will take place between
May 29 and May 31, 2017
at the Ukrainian Chamber of Commerce building in Toronto." More information is available at
http://branhamgroup.com/2017/05/18/ukraine-tech-companies-in-toronto-to-talk-business-may-29-31/