Ukraine: Daily Briefing
June 22, 2017, 6 PM

Kyiv time
Ukrainian soldiers participate in artillery training exercises. 
Photo – Ukraine's Ministry of Defense
1. Russian Invasion of Ukraine
The General Staff of Ukraine's Armed Forces reported at
12:30 PM
Kyiv time that in the last 24 hours, no Ukrainian soldiers were killed and two Ukrainian soldiers were wounded in action. Towards Donetsk, Russian-terrorist forces fired on Ukrainian positions on the Kamyanka-Avdiivka-Opytne-Pisky line and Luhanske village and Svitlodarsk.  Towards Mariupol, Russian-terrorist forces shelled Ukrainian positions at Starohnativka and Lebedynske with mortars. On the Hnutove-Vodyane line, Russian-terrorist forces fired on Ukrainian positions. Towards Luhansk, Russian-terrorist forces shelled Ukrainian positions near Popasne with mortars. Near Novoaydarsk, Russian-terrorist forces shelled Ukrainian positions with artillery. Russian-terrorist forces fired on Ukrainian positions at Stanytsia Luhanska and Zhovte.
2. Ukraine's President sums up working visit to United States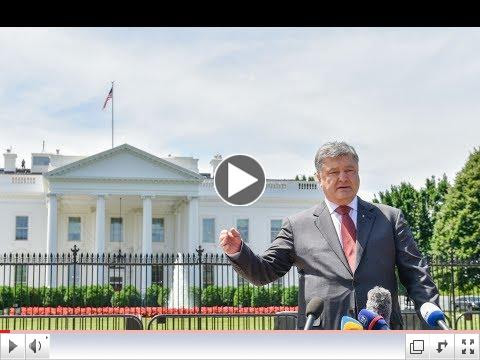 President Poroshenko speaks about his visit to the United States. To view video, please click on image
Ukraine's President Petro Poroshenko summarized his working visit to the US on June 19-21 at a press conference in Washington. The President's press services reported that Poroshenko "noted that a long and meaningful conversation with President Donald Trump was held in the course of which the U.S. President expressed support for Ukraine's sovereignty, territorial integrity and independence. He also expressed support for Ukraine in the issue of countering Russian aggression.
The President informed that his visit resulted in specific plans on preserving and even increasing the regime of sanctions against Russia until full implementation of the Minsk agreements. […] Poroshenko paid special attention to the results of the negotiations with the U.S. Secretary of Defense and the U.S. Vice President in the course of which the parties agreed that several key members of the new presidential administration and several secretaries would visit Ukraine shortly."
Poroshenko stated that "Very important agreements will be signed, including the defensive cooperation, defensive procurement and military-technical cooperation.  Poroshenko also spoke about discussions on cooperation on energy security, nuclear energy and his meetings with the Managing Director of IMF Christine Lagarde and the President of the World Bank.
3. 25 medical institutions in 15 cities in Ukraine register for eHealth system
The Ministry of Health of Ukraine reported that 25 medical institutions in 15 cities have registered for Ukraine's eHealth system. The first step of the service – registration of primary care institutions – began on June 19. Following the registration of medical institutions, the registration of doctors and then patients will begin. In the future, eHealth will allow for the establishment of a single electronic medical card for Ukrainians, which will assist with diagnoses and the administration of medical services, the Ministry of Health stated.
 Acting Health Minister Ulana Suprun stated, "The Ministry, together with the public, business, and the international community is fullfilling its obligations in implementing health care reforms. I once again call on Ukraine's Members of Parliament to adopt the necessary draft legislation as quickly as possible, so that we no longer have to delay reforms."
Canada is supporting the establishing of Ukraine's eHealth system. Canada's Ambasssador to Ukraine, Roman Waschuk, stated, "We support reforms in Ukraine, including health care reforms and we are counting on the cooperation of the government, Parliament, business and the public, so that Ukrainians will soon be able to access world-class health care."
4. Bipartisan Experts Urge Congress and Trump to Arm Ukraine
The Atlantic Council reported, "A bipartisan task force made up of former US defense officials, ambassadors, and security experts renewed calls for the United States to give lethal defensive weapons to Ukraine. On June 21, the National Security Task Force of the Friends of Ukraine Network urged the United States to provide a range of weapons, intelligence, and training.
'[T]he purpose of providing defensive weapons is to help Ukraine deter the Russians from carrying out further attacks, and to increase the pressure on Russia to negotiate seriously on implementing the Minsk agreements,' said Alexander Vershbow, a member of the task force and the former deputy secretary general of NATO. […]
The task force also urged the United States to designate Ukraine as a major non-NATO ally, which would make it easier to give the country greater military support. […]
Providing Ukraine with the defensive weapons and capabilities recommended by the task force would enable Ukrainian forces to better protect themselves and reduce casualties, Vershbow said."
Among the members of the task force are John Herbst, former US Ambassador to Ukraine; General Philip Breedlove, former Supreme Allied Commander Europe; Ian Brzezinski, Former Deputy Assistant Secretary of Defense for Europe and NATO Policy;  and General Wesley Clark USA (Ret.), former Supreme Allied Commander Europe.