Ukraine: Daily Briefing
June 23, 2017, 6 PM Kyiv time
Training exercises of Ukrainian paratroopers. 
Photo – Ukraine's Ministry of Defence
1. Russian Invasion of Ukraine
The General Staff of Ukraine's Armed Forces reported at
12:30 PM
Kyiv time that in the last 24 hours, one Ukrainian soldier was killed and two Ukrainian soldiers were wounded. Towards Donetsk, Russian-terrorist forces fired on Ukrainian positions near Avdiivka and Kamyanka. Towards Mariupol, Russian-terrorist forces shelled Ukrainian positions at Pavlopil and Shyrokyne with mortars. Russian-terrorist forces fired on Ukrainian positions near Maryinka. Towards Luhansk, Russian-terrorist forces shelled Ukrainian positions at Krymske and Shchastya with mortars. Russian-terrorist forces fired on Ukrainian positions at several locations on the Luhansk sector of the front.
2. "Court" in Russian-occupied Crimea extends detention of Crimean Tatar Leader Akhtem Chiygoz
On June 22, a "court" in Russian-occupied Crimea extended the pre-verdict detention of Crimean Tatar Mejlis leader Akthem Chiygoz for three months, until
October 8
.
The Kharkiv Human Rights Protection Group previously reported, "Chiygoz has been in detention since January 2015, facing legally nihilistic charges concerning a demonstration over which Russia has no jurisdiction.   Although the outcome is predetermined, the 'trial' is in such flagrant breach of fundamental principles of law and Russia's own legislation that it probably suits Moscow for it to drag on. This delays the inevitable judgement in Chiygoz's favour from the European Court of Human Rights, while Russia sees no problem with simply jailing the Crimean Tatar leader without any conviction."
Ukraine's Ministry of Foreign Affairs strongly condemned the decision by the Russian occupation authorities to extend Chiygoz's detention, stating, "The ungrounded allegations in the court farce against Akhtem Chiyhoz are yet another evidence that the occupying State further implements its deliberate policy of persecutions, intimidations and repressions in the Crimean peninsula, while lawlessness and deprivation of rights are flourishing in its territory."
3. EU extends sanctions against Russia
Radio Free Europe/Radio Liberty (RFE/RL) reported, "European Union leaders have agreed to extend the bloc's economic sanctions against Russia by six months until
January 31
. The 28 EU heads of state and government made the decision on June 22 during a two-day summit in Brussels […] The sanctions, which mainly target Russia's banking and financial sectors, were first imposed by Brussels in June and July 2014 as a response to Russian aggression in the eastern part of Ukraine and the invasion and later illegal annexation of Crimea. The sanctions package has been renewed every six months since then. The EU member states' ambassadors will officially prolong the sanctions either at the end of June or beginning of July. Earlier this week, the EU rolled over its investment ban on Crimea by another year.
4. Ukraine's President meets with European Council President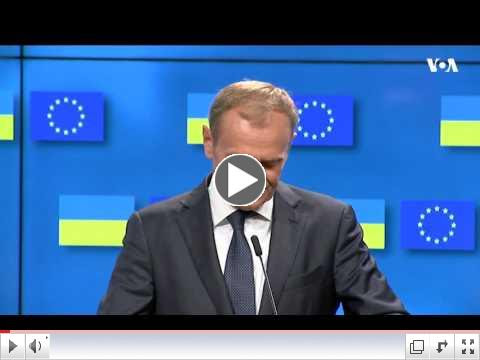 Remarks by European Council President Donald Tusk following meeting with President Poroshenko. Video – Voice of America. 
To watch the video please click on the image above
Ukraine's President Petro Poroshenko met with European Council President Donald Tusk on June 22. Poroshenko stated that the Ukraine-EU Association Agreement will enter into full force on
September 1, 2017
, and that the 19
th
Ukraine-EU Summit would take place in Kyiv on
July 12-13
.
            Speaking at a press conference following the meeting, President Tusk delivered his remarks in Ukrainian. Tusk stated, "Congratulations that despite dramatic circumstances and different obstacles, despite the war in eastern Ukraine, you have managed to achieve the visa-free regime. And thank you for your pro-European determination and for the courage with which you defend your independence.
For every smallest success you have had to pay with your hard work, but unfortunately also with your blood. Nobody has given you anything for free. You deserve everything you have achieved. This is why in Europe so many of us admire and support you, even though I know that it is not always enough. You have a right to expect more and you also have a right to be proud of yourselves."