Ukraine: Daily Briefing
June 26, 2017, 6 PM Kyiv time
Canadian Forces members observe Ukrainian Armed Forces personnel during live-fire training exercises, #OpUNIFIER. Photo – Canadian Forces
1. Russian Invasion of Ukraine
The General Staff of Ukraine's Armed Forces reported at
12:30 PM
Kyiv time that in the last 24 hours, no Ukrainian soldiers were killed and one Ukrainian soldier was wounded in action. The General Staff of Ukraine's Armed Forces reported that on 23-24 June, two Ukrainian soldiers were killed and five Ukrainian soldiers were wounded in action. In the last 24 hours, towards Donetsk, Russian-terrorist forces shelled Ukrainian positions on the Kamyanka-Avdiivka line with mortars. At Zaytseve and Luhanske village, Russian-terrorist forces fired on Ukrainian positions. Towards Mariupol, Russian-terrorist forces fired on Ukrainian positions at Pavlopil. Towards Luhansk, Russian-terrorist forces shelled Ukrainian positions at Shchastya, Troitske and Krymske with mortars. Russian-terrorist forces fired on Ukrainian positions at Popasne.
2. Ukraine's President meets with French President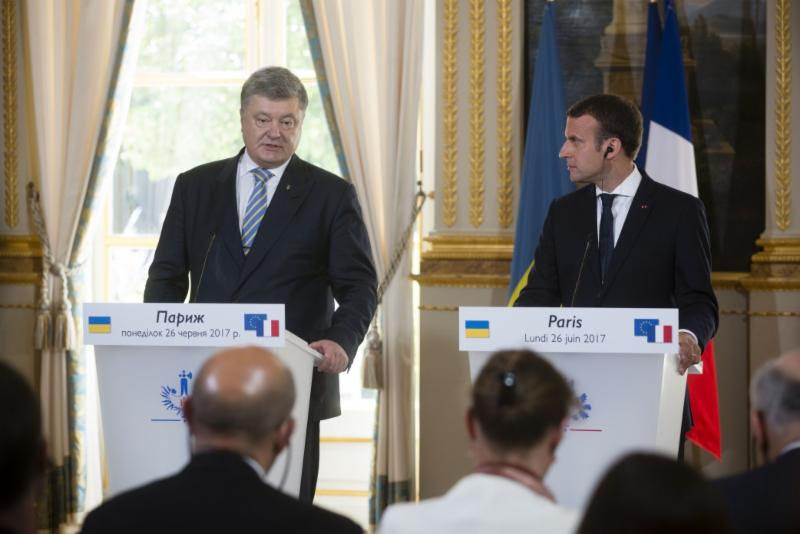 President Poroshenko and President Macron. 
Photo – Ukraine's Presidential Administration
Ukraine's President Petro Poroshenko met with French President Emmanuel Macron today. Reuters reported, "Both Macron and Poroshenko said they expected a new 'Normandy format' meeting on Ukraine – involving Germany, France, Ukraine and Russia – to be held by late June or early July, before a G20 summit due
July 7-8
. Poroshenko said he felt 'much more optimistic' following the meeting with Macron, while Macron said German leader Angela Merkel shared his determination to resolve the Ukraine conflict. Macron reiterated that France did not accept the annexation of Crimea by Russia and said it was vital for Organization for Security & Co-Operation in Europe (OSCE) officials be able to carry out their monitoring work in Ukraine."
3. UK, Ukraine to jointly host conference on reforms in Ukraine
On
July 6
, the United Kingdom and Ukraine will jointly host an international conference on reforms in Ukraine in London. The UK Government stated, "Ukraine has great potential. But only through transforming itself into a stable, transparent, prosperous democracy can Ukraine meet its citizens' aspirations and realise its full economic potential.
Reform will enhance Ukraine's stability, which is important to the stability and security of wider Europe. Ukraine's international partners also have a direct interest in upholding the rules-based international order, which has been violated by Russia in Ukraine.
This conference will bring the international community together with the Ukrainian government, civil society, business and politicians who are committed to pursuing the complex reform challenges ahead and specifically to supporting the Government of Ukraine's reform plan to 2020."
4. Atlantic Council: Here's How to Fight Back Against Russian Political Warfare
Writing for the Atlantic Council, former NATO Deputy Secretary General Alexander Vershbow stated, "Three-and-a-half years ago, Russia illegally annexed Crimea and launched its campaign to destabilize eastern Ukraine. Russian aggression prompted the biggest increase in NATO's collective defense capabilities since the Cold War-including the historic deployment in June of four multinational battlegroups in the three Baltic States and Poland.
But deterring military aggression is only half the battle. Russia has also engaged in political aggression against our societies, using cyberattacks, disinformation, propaganda, and influence operations (what the Soviets called "active measures") to affect the outcome of elections and to undermine confidence in our democratic institutions. […]
Our strategy for meeting the Russian challenge must begin with, but go beyond, bolstering our defense and deterrence against potential Russian military threats. We also need to support Russia's neighbors in their efforts to build strong, resilient societies and defend their sovereignty.  We must counter the Russians' revisionist, anti-Western propaganda and other forms of "hybrid" warfare aimed at undermining our democracies.  […]
Russian interference in the US presidential election last year and its similar efforts to influence the outcome of European elections this year call for a strong response at the national level, but there is a role for NATO and the EU as well, building on the joint declaration by NATO and EU leaders issued in Warsaw last year. […]
Multilaterally, we should urge our NATO allies to support a bigger Alliance role in countering influence operations, disinformation and 'active measures' by Russia.  These are not traditionally problems within NATO's mandate, but defending our societies is just as important as defending our borders. Collaboration between NATO and the EU would make sense-in countering propaganda and disinformation, in sharing intelligence about cyber and other asymmetric threats, and in conducting joint exercises to ensure that 'little green men' are not able to do to our countries what they did to Ukraine." The full article is available at
http://www.atlanticcouncil.org/blogs/new-atlanticist/here-s-how-to-fight-back-against-russian-political-warfare