Ukraine: Daily Briefing
February 19, 2019, 8 PM Kyiv time
Sniper training. Photo – JMTG
1. Russian Invasion of Ukraine
Ukraine's Ministry of Defense reported at 12:30 PM Kyiv time that on February 18 four Ukrainian service member were wounded in action. In the last 24 hours, Russian-terrorist forces opened fire 12 times on Ukrainian positions in the Luhansk and Donetsk sectors, including ten times using heavy weapons.
The Ukrainian military confirmed that on February 15, 16 and 17 the Russian-terrorist forces opened fire 25 times on Ukrainian positions, including seven times using heavy weapons. Unfortunately, Ukrainian troops suffered casualties on Friday and Saturday: two service members were killed in action and four service members were wounded in action.
The press centre of Ukraine's Joint Forces Operation released an intelligence report stating that seven invaders were killed and six were wounded as a result of returning fire by the Ukrainian Armed Forces on Friday, February 15.
2. 'There is no Europe Without Ukraine,' Donald Tusk says in speech at Ukraine's Parliament
On February 19, European Council President Donald Tusk gave a passionate fifteen-minute speech [in Ukrainian] at the Ukrainian Parliament – the Verkhovna Rada – reaffirming the European Union's deep commitment to Ukraine's safety, independence and prosperity.
"There can be no just Europe without an independent Ukraine. There can be no safe Europe without a safe Ukraine. To put it simply: there can be no Europe without Ukraine!" Tusk told Ukrainian leaders and lawmakers, to sustained, loud applause, and a standing ovation.
After announcing that the Ukrainian people were a constant inspiration to Europe, Tusk, a former Prime Minister of Poland who took the EU's top position in 2014, assured that Europe would never recognize the Russian occupation of Crimea and would will never drop the sanctions while it is occupied, nor would Europe ever tolerate violence in the Sea of Azov.
In his speech Tusk also mentioned avoiding the "temptations of nationalism and radical populism," adding that Europe had suffered enough from the division, egotism and chauvinism that comes from such thinking. He concluded his speech with "Long live the memory of your heroes – and long live your country," commemorating the fallen heroes of the Heavenly Hundred.
3. How Ukraine Became a Test Bed for Cyber-weaponry
Photo – Pixabay
There may be no better place to witness cyber conflict in action than Ukraine today
writes Laurens Cerulus his 
article
 in Politico.  Open warfare with Russia, a highly skilled, pool of talent and a uniquely vulnerable political, economic and IT environment have made the country the perfect sandbox for those looking to test new cyber-weapons, tactics and tools.
Cerulus interviews some of the key players in Ukrainian and international cyber-security community who talk about the cyber-attacks on electoral systems and energy grids, blackouts, cyber-wars, IT environment, hacker groups, and hybrid warfare.
Since November [2018] Ukrainian magistrates, government officials, attorneys and others have become subjects of "mass phishing" attacks by numerous hacker groups. Emails would contain contain attachments with malware and viruses – sometimes disguised as Christmas greetings, or as messages from the prime minister's office. […]
Dymtro Shymkiv, President Poroshenko's chief adviser on cyber between 2014 and 2018 explained that Ukrainian authorities exchanged cyber-intel and some of the pieces of the malicious code identified in Ukraine were later found in the U.S. and Israel.
What happens in Kyiv today could easily happen in Berlin, Rome or Amsterdam tomorrow, experts say. Ukraine is "a litmus test," says Merle Maigre, former head of NATO's cyber-defense center.
4. EU Prepares New Sanctions Against Russia over Ukraine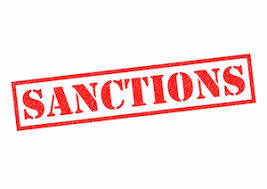 The European Union is preparing to impose new sanctions on Russia – accusing Moscow of supporting separatist rebels fighting in eastern Ukraine. The move follows a meeting of European Union Foreign Ministers in Brussels on Monday, are reported by NBC's Chief Global Correspondent Bill Neely for Euronews
"I can confirm that there is political consensus on some further measures to be taken," said Federica Mogherini, the High Representative of the European Union for Foreign Affairs and Security Policy. "Personal, targeted sanctions," she added. […]
"It's totally unacceptable what Russia has done," said Danish Foreign Minister Anders Samuelson. "They should release the 24 seamen. Stepping up sanctions is a way to show solidarity to Ukraine and also sends a clear signal to Moscow."
5. UK Foreign Office Calls for to End Russia's Harassment of International Shipping in the Black Sea
The UK Foreign Office has released a video calling on Russia to end the harassment of international shipping in the Black Sea and allow free passage through the Kerch Strait.  Please click on the image below to view the video:
6. Ukraine to Launch Ferry Services with Romania
Ukraine plans to launch ferry services along the border with Romania to strengthen regional connectivity, local media reported on Monday.
"The ferry services on the Danube River will be opened this summer at a new border crossing checkpoint linking Ukraine's Orlivka village and Romania's town of Isaccea, as was reported by the Ukrainian Sea Ports Authority (USPA). […]
The opening of the ferry services will reduce the travel distance between Ukraine and Romania by 100 km and will allow crossing the border between the countries without traveling through the territory of Moldova, the USPA said. Besides, the ferry services with a capacity of up to 1,000 trucks and 250 passenger cars per day will create a new transport junction in Eastern Europe, attract investment and create new jobs in the region."