Ukraine: Daily Briefing
March 25, 2019, 8 PM Kyiv time
UAF military training Photo courtesy of 95th Airborne Brigade Press Service
1. Russian Invasion of Ukraine
Ukraine's Ministry of Defense reported at 12:30 PM Kyiv time that on March 24 the Ukrainian Armed Forces suffered no casualties. In the last 24 hours, Russian-terrorist forces opened fire three times on Ukrainian positions in the Luhansk sectors using heavy weapons in four instances. Returning fire, Ukrainian forces killed two and wounded one enemy troops in the last 24 hours.
On March 22 and 23 the Russian-terrorist forces opened fire nine times on Ukrainian positions in the Luhansk and Donetsk sector, using heavy weapons in five instances. One Ukrainian service member was killed in action and one was wounded in action on Friday, March 22. Returning fire, Ukrainian forces killed eight and wounded six enemy troops on March 22 and 23.
2. Atlantic Council: What to Expect from Ukraine's Completely Unpredictable Presidential Election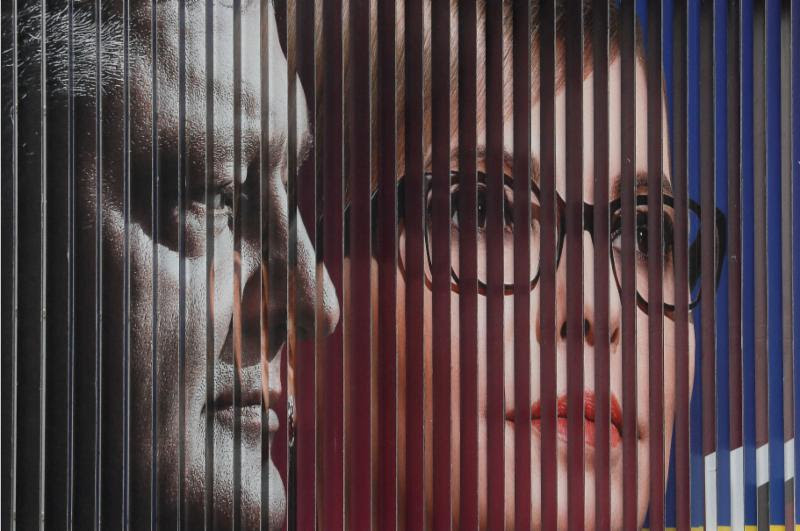 An election campaign poster with portraits of Ukrainian President Petro Poroshenko and former prime minister Yulia Tymoshenko is on display in Kyiv, Ukraine March 4, 2019. REUTERS/Valentyn Ogirenko
The upcoming presidential election in Ukraine, the candidates, and the polling results are the main issues covered by Brian Mefford in his blog at the Atlantic Council. According to Mefford, who offers five predictions about the first round this year's election is likely to be the "cleanest and least fraudulent election in Ukraine's history." It may have something to do with the position of the current Interior Minister Arsen Avakov, as revealing the violations during the current campaign "enhances his political standing in the West and enhances his influence with the Ukrainian electorate," contemplates the author.
Further he talks about various scenarios involving the current top three candidates Zelensky, Poroshenko and Tymoshenko and who is likely to end up running against whom in the second round.
In conclusion, Mefford warns the audience not to jump to conclusions reading the current polls as "the dynamics will be completely different." He suggested that those people who voted for one candidate in the first round may not necessarily support that candidate but cast their vote as a chance to register their disapproval.
Click 
here
 for the full article by Brian Mefford of The Atlantic Council.
3. Hromadske: Presidential Election in Ukraine One Week Countdown
On March 24 one of Ukraine's independent news media Hromadske International aired The Sunday Show where it invited journalists, political experts and activists to talk about the upcoming presidential elections.
The discussion was launched by Yevhen Fedchenko, director at the Mohyla School of Journalism and co-founder of Stop Fake who cautioned the audience that bias and polls may not necessarily reflect the real nature of the race. "We really need to be very careful and cautious of ratings and polls, because they reflect the things that people are asked about, meaning that the answer would directly depend on what exactly is your question, what are you asking," emphasized Fedchenko. While talking about Zelensky who is leading the presidential race according to numerous polls, Fedchenko contemplated that the results of the poll were rather the recognition of his face and his brand.
Paul Niland, founder at Statement Email, reiterated Fedchenko's statement saying that "people have to consider that they want to happen but they also have to bear in mind what they think will happen…when it comes to walking inside the booth and putting a tick next to a name you might do something more pragmatic, something more stable."
On the other hand, Bohdan Hahaylo, British journalist and historian, said that the polls needed to be taken seriously because of the "great degree of consistency and differences are not that great – 2-3%." He emphasized that the major battle is going to be between the incumbent President Poroshenko and former prime minister Tymoshenko and depending on who wins in the first round that candidate will be facing Zelensky in the second round.
Click 
here
 to watch the full Sunday Show.
4. The Canadian Press: Ukraine's Top Cop Walks Thin Blue Line Between Russian Meddling, Free Election
On March 25, the Canadian Press released an article by Mike Blanchfield who interviewed Serhii Kniaziev, chief of the National Police of Ukraine, during his recent visit to Ottawa whose main responsibility is to protect the integrity of the upcoming presidential elections.
Cyber attacks and disinformation are the daily threats mentioned by Kniaziev that constantly attempt to undermine the democratic ambitions of Ukraine. "I feel a great sense of responsibility, ensuring the proper elections," said Kniaziev. He bears no illusions about Russia's strength or capabilities and welcomes the offer to exchange information and best practices on how to cope with the inevitable threat of foreign interference in elections.
"Kniaziev spent time with RCMP counterparts, Toronto police and other leading federal government officials in Canada's diplomatic and security apparatus in Ottawa earlier this winter. Canada has been helping Ukraine build its national police force following the tumultuous events of early 2014.
The Police Training Assistance Project, run by Global Affairs Canada, is part of the government's broader assistance to Ukraine, which includes a Canadian Armed Forces mission of 200 trainers that was extended last week, the deployment of hundreds of election observers for the upcoming ballot and the imposition of sanctions on more than 100 Russians."
In his interview Kniaziev talks about the elevated level of national stress that he became aware of only after spending time with Toronto police officers. He believes that there is a need to incorporate mental health professionals into Ukraine's dayly police work. "We have quite a number of people who have so-called Vietnam syndrome, meaning some mental issues," he said. "The society in general does not understand who these people are, where they are coming from. The approach we saw in Toronto really impressed us."
Read the full article by Mike Blanchfield 
here