Ukraine: Daily Briefing
June 25, 2019, 6 PM Kyiv time
UAF live fire training exercises at Yavoriv, Photo – US Army Europe
1. Russian Invasion of Ukraine
Ukraine's Ministry of Defense reported at 12:30 PM Kyiv time that in the last 24 hours, no Ukrainian soldiers were killed and four Ukrainian soldiers were wounded in action. In the last 24 hours, Russian-terrorist forces opened fire on Ukrainian positions on the Luhansk and Donetsk sectors of the front 44 times in total, including at least 14 times with heavy weapons – mortars and artillery. Returning fire, Ukrainian forces wounded 3 enemy combatants in the last 24 hours.
2. Parliamentary Assembly of the Council of Europe restores Russian delegation's rights, ignoring aggression, violations of human rights and its own resolutions
Restoration of Russia's Voting Rights in Parliamentary Assembly of the Council of Europe. Report from UATV. To view video, please click on image above
The Kyiv Post reported, "Ukraine has temporarily suspended its membership at the Parliamentary Assembly of the Council of Europe, or PACE, after the 47-nation international body voted to reinstate Russia's membership. PACE is the parliamentary arm of the Council of Europe and includes more nations than the 28-member European Union among its member states. Among other responsibilities, it oversees the European Court of Human Rights.
           The Assembly voted for restoring Russia's rights as a PACE member on June 25, essentially lifting one of the most important European sanctions against Russia in the process. 118 deputies voted for the motion, 62 against, while 10 abstained.
           French, Spanish, Italian and Turkish, as well as six other nations' delegates, unanimously supported Russia's return to PACE while Ukrainian, British, Polish, Georgian, and the Baltic country delegations were strongly against it.
           Ivanna Klympush-Tsintsadze, Ukraine's vice prime minister, said on June 25 that Ukraine's closest allies in Europe had unsuccessfully mobilized to try and prevent the motion from passing. Later, she said that a 'Pandora's box' had been opened.
           The Ukrainian delegation to PACE temporarily suspended its membership because of the decision, according to Mariya Ionova, acting chairperson of the Verkhovna Rada committee for European integration. In the meantime, the delegation temporarily suspended its membership of PACE on June 25, planning to return only for a June 26 session in which it will demand that PACE not allow Russia to have voting rights at the European body.
          'We do not see ourselves in the same room with the Russians,' Ionova told news agency Interfax-Ukraine. 'We will stand up and protest,' she said. 'And when they remain in the hall, we will leave it.'
           Four out of 18 deputies from the Russian delegation are currently under international sanctions because they voted for or have otherwise supported Russian aggression against Ukraine. Ionova thinks that accepting the Russian delegation back will see PACE 'commit suicide.' […]
          [President] Zelenskyy said on June 25 he was 'disappointed' at the PACE decision, according to a post on his Facebook page. He added that he had discussed 'personally' the issue with French President Emmanuel Macron on June 17 and with German Chancellor Angela Merkel on June 18, 'trying to convince them that return of the Russian delegation to PACE was possible only after Russia met the PACE conditions.'
          'It's a pity that our European partners didn't hear us and did it otherwise,' Zelenskyy said. 'I am grateful to the Ukrainian parliamentary delegation and friendly national delegations who bravely fought to the end.'
           Zelensky also pointed to PACE's main argument to reinstate Russia was the need to protect human rights. 'I hope… nobody (at PACE) had any thoughts about material values,' Zelensky wrote. […]
          Ilya Ponomarev, a former Russian member of parliament who opposed Russia's illegal seizure of Crimea in 2014 and recently became a Ukrainian citizen after five years of self-imposed exile in Ukraine, also had strong words for PACE.
'Previously, this organization had the status of useless, but highly moral. Now it is useless and immoral,' he said."
3. Ukraine Ministry of Foreign Affairs statement on restoration of rights of Russian delegation to the Parliamentary Assembly of the Council of Europe
In response to PACE's decision to restore the rights of the Russian delegation to PACE, Ukraine's Ministry of Foreign Affairs stated,  "What happened at PACE is evidence of a departure from the declared standards, principles and values of the Council of Europe as a result of unprecedented pressure and financial blackmail from the Russian Federation.
          Unfortunately, this happened as a result of open appeasement from certain countries, the leadership of which, on the one hand, declares the necessity to stop Russian aggression against Ukraine, and on the other hand – encourages the aggressor by making concessions.
         By depriving itself of the possibility of implementing the most effective sanctions, the Assembly significantly weakened its role in contemporary European politics, and its ability to defend the rule of law, human rights, and democracy in all member country of the Council of Europe, including the Russian Federation.
         It is sad to state today that at a time when the Council of Europe is marking its 70th anniversary, that its Parliamentary Assembly has lost its credibility, and the Organization can no longer play the role envisioned by its founders.
Ukraine's MFA consistently opposed such a scenario, and this position remains unchanged.
Despite the fact that today we have witnessed the defeat of European parliamentarism, the moral victory remains with those countries that did not support the destructive decisions in the Council of Europe. These were those countries who were either occupied by the USSR, or are today suffering under Russian occupation authorities, who continue to carry out aggression and kill their citizens. It is they who are worthy of being considered the true defenders of the values of the Europe to which Ukraine belongs."
4. Austrian Supreme Court upholds US extradition request for Ukrainian oligarch Firtash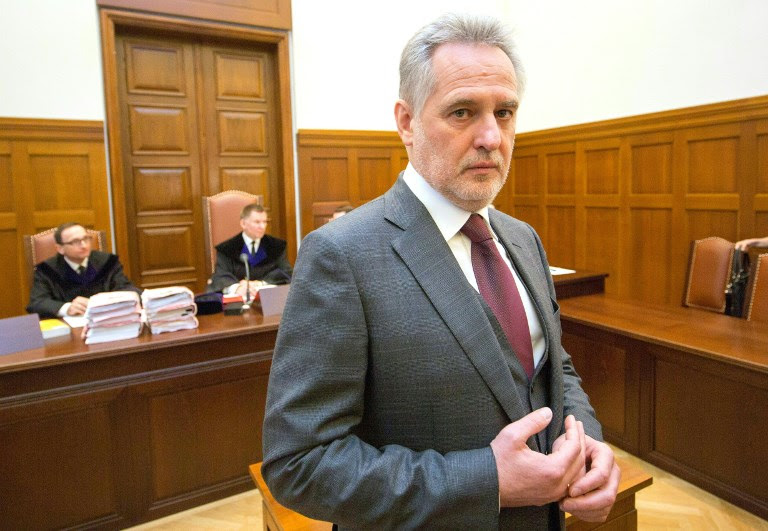 Dmytro Firtash. Photo – AFP
Radio Free Europe/Radio Liberty (RFE/RL) reported, "Austria's Supreme Court has upheld a decision allowing a request by the United States to extradite Ukrainian tycoon Dmytro Firtash, the latest twist in the case for the oligarch who has been fighting against extradition since his 2014 arrest in Vienna.
          Following the court ruling on June 25, a final decision will be made by the country's justice minister on whether to follow through with the request. Firtash's Austrian lawyer and spokesman declined immediate comment after the ruling. U.S. authorities have been investigating Firtash, 54, since 2006 on suspicion of bribery and forming an organized crime group.
         Firtash has denied any wrongdoing and has said the extradition case against him is politically motivated. A Vienna Regional Court concurred with him in an April 30, 2015 ruling that denied the extradition request, but that decision was reversed by a court in February 2017.
          On June 22, a federal court in Chicago refused to throw out his foreign bribery and racketeering case. A former business partner of U.S. President Donald Trump's ex-campaign chairman, Paul Manafort, and one of Ukraine's wealthiest men, Firtash has been charged in a U.S. federal court in Chicago, as part of an alleged bribery scheme involving titanium supplies for aircraft giant Boeing.
          His case has seen several twists, including being rearrested in Vienna on a Spanish warrant in February 2017, just minutes after an Austrian court cleared the way for his U.S. extradition. Shortly after his March 2014 arrest in Vienna, Firtash posted a record bail bond of 125 million euros ($172 million) that was paid for by Russian billionaire Vasily Anisimov, a business partner of Arkady Rotenburg.
However, Firtash was barred from leaving Austria as the extradition cases moved through the courts. […] Firtash's wealth stems in large part from the lucrative natural-gas trade in Ukraine, whose pipelines have long served as the key conduit for Russian gas supplies heading to Western Europe.
A November 2014 Reuters report that cited Russian customs documents said companies that Firtash controlled made more than $3 billion in the four previous years by purchasing natural gas from Russia's Gazprom at 'well below market prices.'"